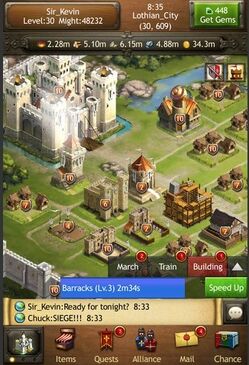 Building
Early on

Follow the quests to get the essential buildings you need to grow your city.

Build every main building to a level 2 or 3.

Build what you need to get Tier 1 troops (Militiamen, Archers, and Light Cavs).

The ideal mix of resource buildings is about 4-5 of each type. Later on, you will want almost all the rest to be farms for food production.

50-150k Might

Focus on resources. Aim to have all your resource buildings one level above most of the rest of your buildings. This will ensure you have enough resources to keep building.

Upgrade your castle and wall - these are the two most important.

Upgrade your blacksmith, workshop and stables so that you can continue researching troop technology.

Make sure you have what you need to get Tier 2 troops (Swordsmen, Cavalry, and Balistas).

150k+ Might

Keep upgrading your castle, wall, resource buildings, and cottages.

Upgrade your barracks' to improve troop production speed.

Ideally, you want to leave room for having 8-12 barracks to help with faster troop production (this splits the troops out to all the barracks). You don't have to build these all right away though. This will leave you 8-12 spots for cottages.
Alchemy Lab – Used for researching Barracks – Used for producing troops. Multiple barracks will split troop production to each one available Blacksmith – Required for upgrading melee troops and allows researching Metal Alloys Castle – Each level allows you to increase the level of your cottages, build 3 more resource buildings, and capture one more resource field Cottage – Determines population level, which will increase the level of gold (in conjunction with the tax rate) and provide extra population from which troops can be trained Embassy – Allows alliance members to send armies to reinforce you. The number of armies allowed is based on your level of embassy Knights Hall – Houses your knights. Knights can be assigned here to gain advantages in resource production, research and other things Rally Point – The launching point of your armies. Troops and troop movement can be managed from here. Relief Station – Raises the marching speed between your city and your allies Round Tower – Allows hunting for crests. A certain number of crests must be found to build your second city Stable – Required for upgrading horse-troops and for researching Alloy Horseshoes Storehouse – Safely stores a certain number of resources away from enemy attack. Wall – Determines your defensive rating when attacked by an enemy. Also allows for producing additional defensive items Watch Tower – Determines what amount of information you will receive when an attack is launched at you. The higher the level, the more detailed information you will receive Workshop – Required for wall upgrades and for upgrading ranged units
Ad blocker interference detected!
Wikia is a free-to-use site that makes money from advertising. We have a modified experience for viewers using ad blockers

Wikia is not accessible if you've made further modifications. Remove the custom ad blocker rule(s) and the page will load as expected.